"Warnings about inflation are nothing new. And for years predictions of its imminent return have flopped. However the new macro-environment has brought the inflation debate back in a big way. The U.S. is engaged in fiscal expansion on a historic scale. The Fed has signaled its willingness to tolerate higher prices at least for some period of time. And finally, the speed of the recovery, combined with Covid-related disruptions that have impaired the supply chain, create at least the potential for a new inflation regime." —
Joe Weisenthal, News Director, Bloomberg News
Want to hear more from Joe? Keep reading...
What Bloomberg Markets Is Watching
It's a massive understatement to say investors have changed their minds about the outlook for U.S. inflation over the past year. But alarm in some quarters about runaway prices may be unwarranted judging by the way markets are pricing risks.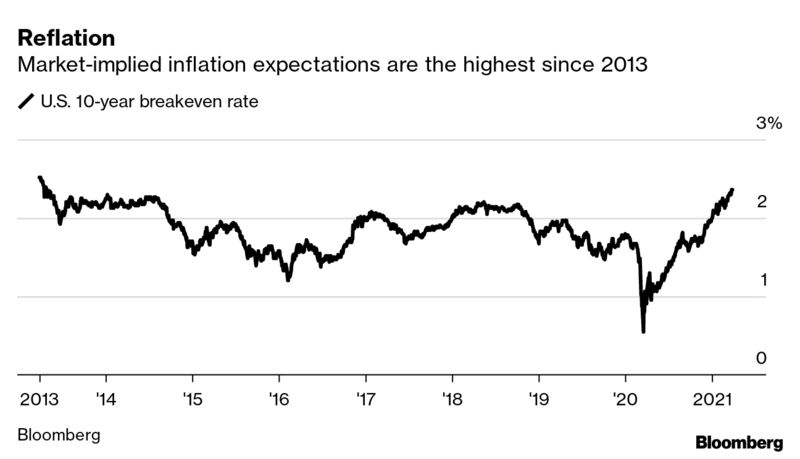 As a result, inflation expectations are rebounding, as suggested by the rise in "breakevens." These gauges of market outlook for consumer price inflation are derived from the difference between yields on nominal and inflation-protected government bonds. In the U.S., the 10-year breakeven has climbed sharply since the market shock of March 2020. The rate is now running close to 2.4%, its highest since 2013.
If that's the market's vision over the next decade, it's not exactly out of control. Nor is it out of whack with the Fed's goal. Translated to the central bank's preferred inflation gauge — personal consumption expenditure, which typically runs cooler than consumer price inflation — it's only a touch above the 2% target.
That's a win for the Fed, which wants to hold interest rates near zero at least until
unemployment approaches pre-pandemic lows
. Policymakers are also willing to allow inflation to run slightly hotter to build a more inclusive workforce. One big lesson they've learned through many years of undershooting inflation targets is that a slow-walked recovery won't help them achieve their goal. —
Emily Barrett, U.S. rates reporter
Trending with subscribers
How a Chip Shortage Snarled Everything From Phones to Cars
The Covid-19 pandemic led to an unprecedented global demand for the most crucial and expensive component under the hood of modern-day gadgets
.
>>
Trump's Ailing Empire
His fortune slips to $2.3 billion as Covid-19 and the Capitol insurrection take their toll, according to the Bloomberg Billionaires Index.
>>
What's new at Bloomberg.com
Vaccines are safe and effective—so why are so many Americans afraid of taking them? Listen to "
Doubt
," a new podcast by Bloomberg's Prognosis team.
This spring, we're excited to bring you, our subscribers, deeper into the conversation. Join us for new and exclusive subscriber-only content from our Odd Lots podcast, hosted by Bloomberg markets editors Joe Weisenthal and Tracy Alloway. Watch your inbox and
listen to the podcast
for details.
Upcoming live virtual event
Bloomberg Wealth Summit
May 4, 2021 | 9:00 AM - 1:00 PM EDT
Take advantage of early subscriber registration to the Bloomberg Wealth Summit taking place on May 4, 2021. This virtual event is designed to provide investors and advisors with actionable intelligence and news they can use to navigate the challenges of managing cash and debt as the economy emerges from the Covid-19 pandemic, developing investment strategies, navigating taxes, planning for retirement and the future of estates, and more.
Register now
to submit your questions first and join the event, available both live and on-demand. Participation is complimentary.
About the Subscriber Insider
As a Bloomberg.com subscriber, you have a wealth of intelligence & award-winning journalism at your fingertips. Look for the Subscriber Insider the first week of every month, when you'll get exclusive updates on our latest content, enhancements and subscriber benefits.